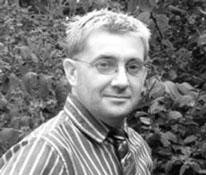 David Seybold, born in Dunkirk, New York in 1968, gifted with an artist's eye and hand even in his youth, first discovered oils at age eleven. It was that discovery that soon became a passion and life-long pursuit. In the development and refinement of that pursuit, David graduated from Edinboro University of Pennsylvania with a Bachelor of Fine Arts degree and teaching certificate in 1991. With a growing passion for his art, and a desire to excel, he abandoned his teaching opportunities to pursue a life-long dream of being an independent artist.
David's initial exposure to the visual tapestry and raw winter anatomy of Pennsylvania, was vacationing with his family.
Since those early trips to Pennsylvania, David relocated to Lewisburg in 1998 where he avidly remodels his home, enjoys open-hearth cooking in his fireplace, and creates a perennial and herb garden as he strives to establish a flourishing career at Blueberry Studios.
With a realist's perception, Mr. Seybold captures the moods, history, and subtle nuances of rural Pennsylvania through his depictions of old stone farmhouses, antiques, landscapes, and still-lifes of freshly harvested fruits and flowers. His uniquely exceptional use of light and shadows conveys subtle moods and changing seasons.
Anticipate seeing more of David's growing collection as he continues to do one-man shows, commissions and fundraising projects as he strives to follow his philosophy of "Never stop believing in yourself, you are only going to be as good as you want to be."